Please provide some info on your project
We will review your enquiry and get back to you as soon as possible.
Which tool are you interested in?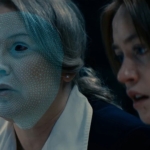 Frequently Asked Questions
Both! Our software is available to selected studios and their partner networks but also a full Flawless service running through our production houses in Los Angeles and Soho, London. Our production specialists will work closely with you to achieve the exact results you want.

Flawless' tools are implemented in post-production. However, our tools affect all stages of the filmmaking process by expanding filmmakers capabilities, lowering costs, and empowering them to reach an expanded global audience, thereby changing the types of projects filmmakers can choose to develop and how they approach production.

You provide us with separate source shots, or a completed film. No additional filming by you is required. For dialogue replacements, an audio file of the new lines will need to be provided.

Not at all. Aside from the fact that the term "DeepFake" is often applied to videos edited with malicious intent, Flawless' products are built from entirely different technology. "DeepFakes" work like a face filter, essentially placing a facemask over a different person's physical performance.

Flawless, uses a patented technology called "DeepCapture," a process powered by deep learning. It takes a detailed 4D scan of the actors existing performance, enabling the DeepCapture system to learn the intricacies and nuances of the actor themselves. The end result is that any new lines are driven by the actors original performance, not puppeteered or 'faked' by someone else.

Flawless was co-founded by WGA/DGA writer/director Scott Mann and is led by numerous career filmmakers and studio veterans. The company recognizes the need to protect the artists and their rights that are the foundations of the industry. To that end, Flawless creates tools to empower storytellers, not push them away.

Flawless has a strict "clean" data policy. Your data is your own, and is never mixed or used elsewhere. Additionally, our platform is fully secure, TPN certified, and every project is treated with the trust and confidentiality expected from the highest levels of the industry.